Vape Superstore are the notorious UK vaping leaders, providing over 2,000 products from 150 prominent brands to the nation. Just realised you've run out of your favourite e-liquid? Do not panic, order before 3pm and you can get your delivery that same evening! This is a new but necessary Vape Superstore offering. 
Why was this necessary? With the pandemic forcing the closure of Vape Superstore shops, the online shopping experience had to be enhanced - how? By offering more delivery options, which is vital when 25% of online shoppers would abandon their shopping cart if same day delivery was not an option. This is where Stuart stepped in, offering not only a same day delivery capability, but also a precise, seamless sustainable experience for the end-customer.
This service started with Vape Superstore in the first week of January, meaning it's still in its infancy. However, in the last 12 weeks they have seen volumes increase as well as 98% of deliveries being on time and successful. This means that 98% of all orders have been delivered within the 1-hour time frame promised. This proves Stuart's capabilities as same day delivery specialists.
Hub-to-Home: Stuart's convenient & sustainable delivery model
Stuart's hub-to-home model is convenient, precise and sustainable by design. The operation takes place in our London hub, where in this case parcels are injected by Stuart into the fulfilment centre, in order to leverage our green fleet. From here, the packages are distributed the very same day via our 100% green electric vehicles across central London. 
It is convenient, with the retail partners' end-customers being notified of a three hour delivery slot, from 7-10pm, which is allocated as soon as the parcel injection has taken place. This allows for the end-customer to plan their delivery around their day-to-day life. Once the transport vehicle leaves the hub to do the delivery round, the end-customer is also notified of a specific 1-hour delivery time slot. That is the precision element. Then finally it is sustainable, with 100% green vehicles managing every delivery.
The hub-to-home model has saved the same amount of CO2 emissions entering the atmosphere that 513 trees would have been able to absorb in a year!
Tech integration via our API
Vape Superstore is integrated via our application programming interface [API], allowing full electronic data interchange, real-time tracking and dedicated resources. This presents itself as a checkout journey on the Vape Superstore website. End-customers can then choose the same day delivery option if they live within Central London.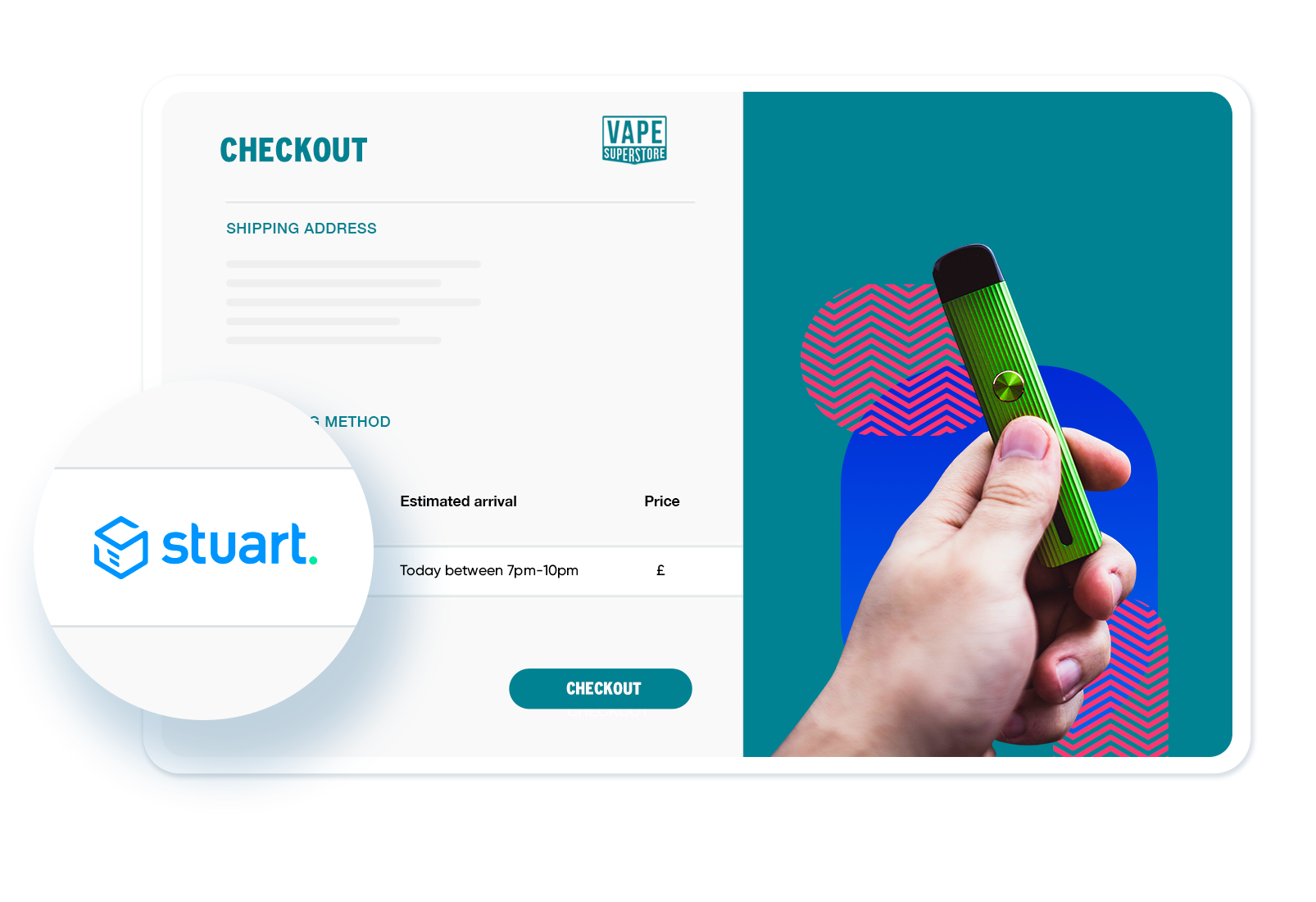 A seamless customer journey 
Stuart's aim is to provide a seamless customer journey, for both our retail partners and their end-customers. Our partnership with Vape Superstore offers exactly that. From an end-customers perspective, they order via the Vape Superstore website up to 3pm for same day delivery. They then receive a 3 hour delivery window of 7-10pm and once the order leaves the hub a precise 1-hour time window is provided. This is communicated via a customisable text message, meaning the end-customer is repeatedly informed. They have the option of rescheduling the delivery if it doesn't suit their needs and can track their order via a tracking link sent directly to them.
69% of consumers stated that the ability to track an order is one of their top three priorities when purchasing online
From Vape Superstore's perspective, Stuart collects the parcels from a Vape Superstore warehouse and injects them into their hub. They have access to a parcel tracking interface - tracking the end-customers parcels. Customers are usually required to sign for the delivery meaning constant notification of the parcel's travel life cycle. Since Covid-19 and our contact-free processes, the partner courier now signs on behalf of the customer once the order has been delivered.
Edward Swain, Managing Director at Vape Superstore said:
"Over the past year there has been a big shift in consumer behaviour, and with rising expectations around fast delivery we were keen to offer delivery options that provide convenience and choice for our customers. Thanks to our partnership with Stuart we have been able to improve our delivery offering and meet the needs of our London based customers who lead fast paced lives. Our new same day delivery service has been very well received by our customers as they are now able to get their goods when they need them most."
66% of retailers have stated that they want to offer same day delivery within two years. Don't miss the opportunity to make same day delivery your competitive advantage. Click here to join the movement.