We deliver
for restaurants, groceries, retail and luxury, ecommerce , for professional services .
Power your restaurants with on-demand deliveries
Get started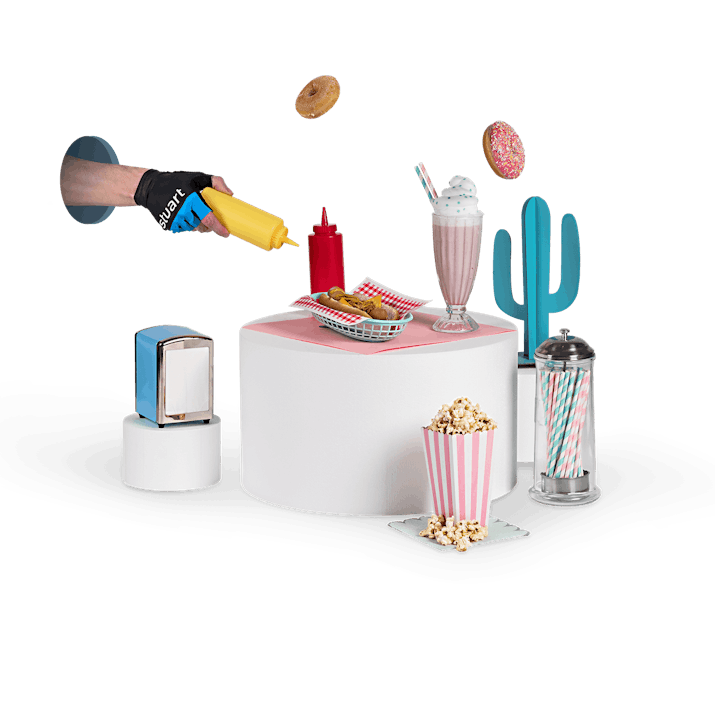 For businesses
Start delivering happiness to all your clients, on-demand
Delivery for the
on-demand era
Revolutionising the future of urban logistics, Stuart is the leading on-demand solution powering the way goods are transported in a customised way. We connect businesses  across all industries and of all sizes to high quality independent couriers to offer customised delivery solutions to wow their end customers. 
Stuart is part of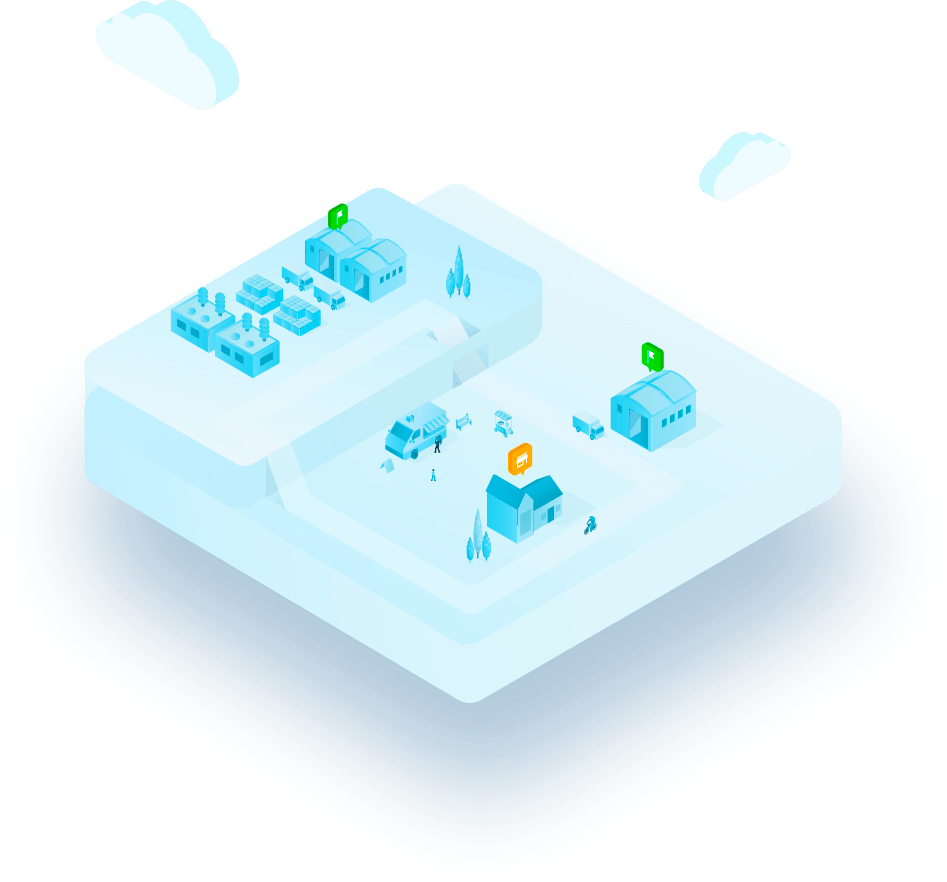 Speed & convenience at the click
of a button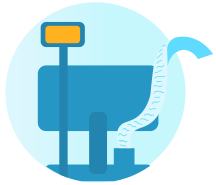 Every business
We work across all industries - restaurants, groceries, retail, e-commerce, messenger - enabling efficient deliveries throughout the day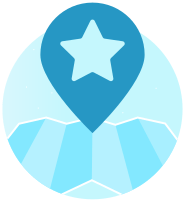 Any pickup address
We deliver any item directly from your store network, distribution center, drive-through or office on-demand, upon request
All transport types
We connect you in real-time with the largest fleet of independent couriers in town - bikes, cargo bikes, mopeds, cars - you name it!
Advanced technology
We provide real-time tracking of parcels from pickup to drop off and offer advanced notifications to keep your end-clients in the know
We have the right product for you
Integrate our API into your checkout to offer same-day or next-day delivery to all your clients. Launch instant or scheduled deliveries with our SaaS delivery plateform - no IT integration needed.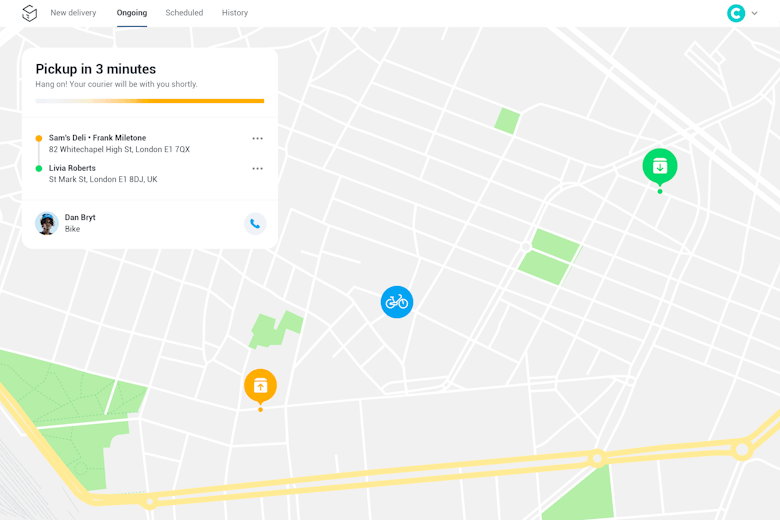 Trigger deliveries in no time, at the click of a button.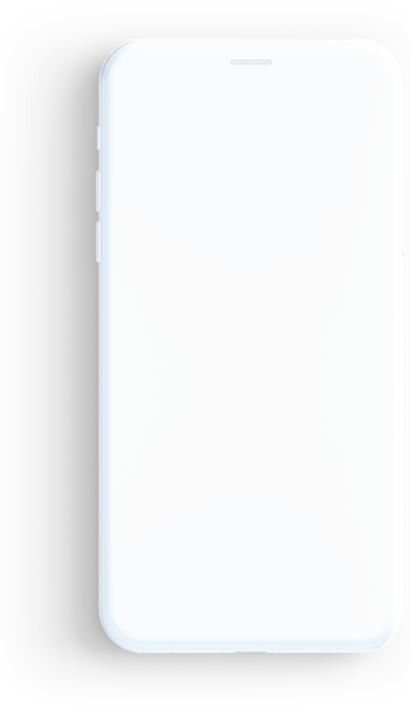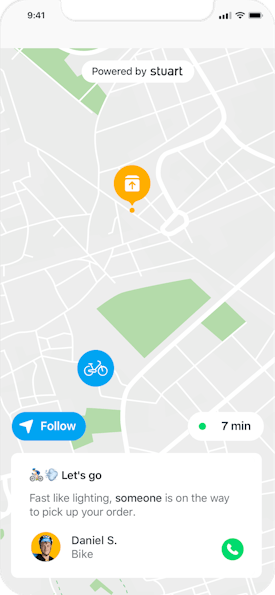 We partner with all industries
We're operating
in
3
countries &
75
cities
Aix-en-Provence -
Amiens -
Angers -
Annecy -
Beauvais -
Bordeaux -
Brive-la-Gaillarde -
Caen -
Calais -
Cannes -
Clermont-Ferrand -
Dijon -
Douai -
Dunkerque -
Grenoble -
Le Havre -
Lille -
Limoges -
Lyon -
Marseille -
Metz -
Montpellier -
Mulhouse -
Nantes -
Orléans -
Nancy -
Nice -
Nîmes -
Paris -
Reims -
Rennes -
Rouen -
Saint-Étienne -
Strasbourg -
Toulon -
Toulouse -
Tours -
Valenciennes
Basildon -
Birmingham -
Blackpool -
Bournemouth -
Brighton -
Bristol -
Cambridge -
Cardiff -
Darlington -
Derby -
Exeter -
Gillingham -
Grimsby -
Huddersfield -
Hull -
Leeds -
Leicester -
Liverpool -
London -
Manchester -
Milton Keynes -
Newcastle-Gateshead -
Northampton -
Nottingham -
Oxford -
Plymouth -
Reading -
Sheffield -
South Shields -
Southampton -
Sunderland -
Swansea -
Teesside -
Wakefield -
Warrington
France
United Kingdom
Spain
Ride with us
You want to become a courier partner? Join the community today and start earning money!
Go ahead
Start powering your deliveries with Stuart today!