Abercrombie & Fitch Co. enters the same day delivery market in the UK
Abercrombie & Fitch Co., the global retailer of casual wear, has excitingly announced the expansion of its same-day delivery service to its UK stores, including over 27 Abercrombie & Fitch, abercrombie kids and Hollister locations.
The American lifestyle retailer has partnered with Stuart and software provider Delivery Solutions to build on its fulfillment capabilities and allow customers within certain postal codes to receive products from its stores within the same day. This follows the successful launch of a same-day delivery option in the U.S., which was introduced in October 2021.
'Get It Faster', with Stuart.
Customers in the UK can now use the Abercrombie & Fitch, abercrombie kids, Hollister, Social Tourist and Gilly Hicks websites and mobile apps to shop the full range of apparel inventory that is available in their local stores for same-day delivery by last-mile experts, Stuart. Each brand's website features a "Get It Fast" filter to easily find items that are available. Alternatively, shoppers can choose the same-day delivery option for available items at checkout. Once the same-day delivery order is placed, customers receive tracking updates via text, to accurately determine when their order will arrive. Speed and precision all in one!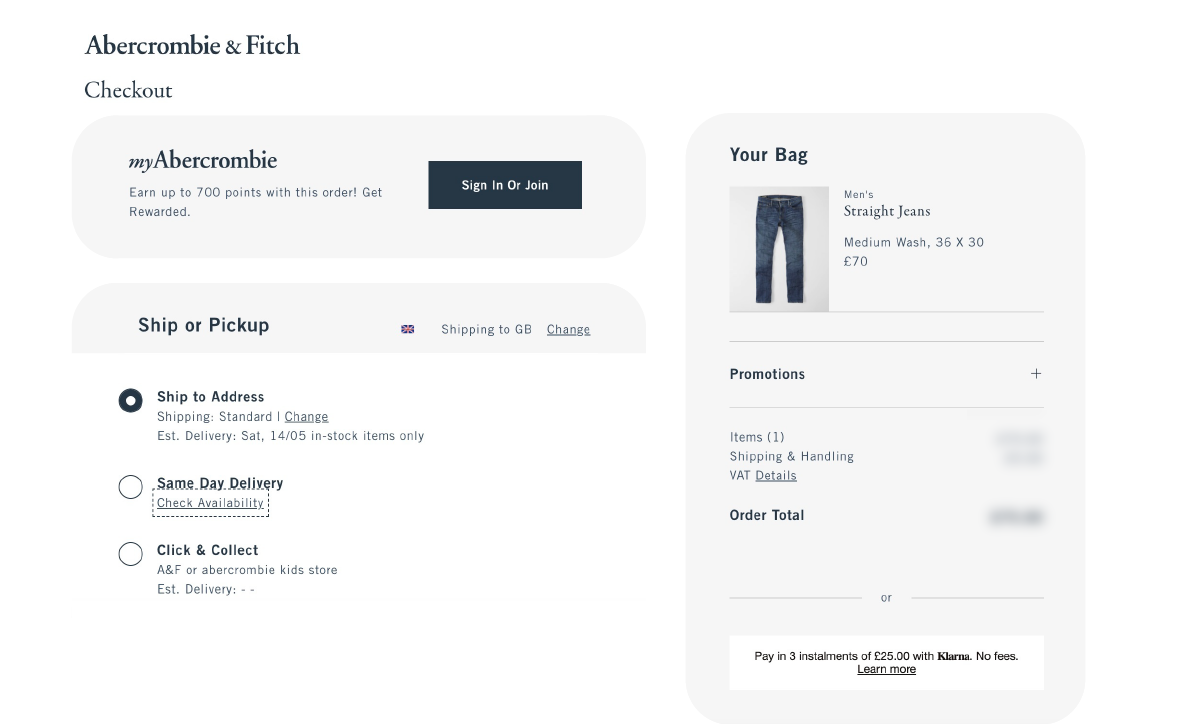 Ship from store, the new normal
Ship from store is a delivery solution that retailers use to pick, pack and dispatch products from their existing brick and mortar store network. It bridges the growing consumer demand for faster and more precise delivery with the need for businesses to leverage their physical stores, employees and stock. With 50% of retail respondents currently investing in ship from store, its status as an emerging necessity is clear.
Consumers place an e-commerce order which is then packaged in store, but instead of the consumer coming to you, it's delivered through a courier. Retailers that offer same-day click and collect, can often offer same-day ship from store without much additional investment; something Abercrombie & Fitch Co. recognised and were eager to implement.
"Same-day delivery supports our goals of meeting our customers where they are and delivering our product when and how they want it. The additional speed offering has been resonating with customers in the U.S., especially those in high-density markets, since we launched last fall. This gave us the confidence to expand the offering to our customers in the UK, who we know are looking for more choices and faster delivery options," said Larry Grischow, Executive Vice President, Supply Chain and Procurement at Abercrombie & Fitch Co
 This initiative is part of Abercrombie & Fitch Co.'s ongoing journey to transform its supply chain and deliver capabilities that best meet its customers' evolving needs and shopping preferences. The same-day delivery service adds another option to the retailer's portfolio of omnichannel services - one that customers both want and need.
Brendan Hamill, Stuart's UK General Manager, said:
We are delighted to be able to partner with such a prestigious fashion company as Abercrombie & Fitch Co. to deliver a better customer experience through the same day delivery of orders.
Join the ship from store same-day movement, ensuring all your end-customer delivery needs are met. Speak to our team today ➡️ Click here