At Stuart, there are plenty of interesting career path stories that show how there's no one linear way to grow your career. In fact, the opportunities are limitless. To illustrate this, we want to share a new story in our Stuart blog series, Exceptional Hires: the inspiring and fun stories about some of our most remarkable recruitment journeys.
Read on to learn about Giulia Schivardi, Global Head of Partnerships, who came with a "package" when she joined Stuart...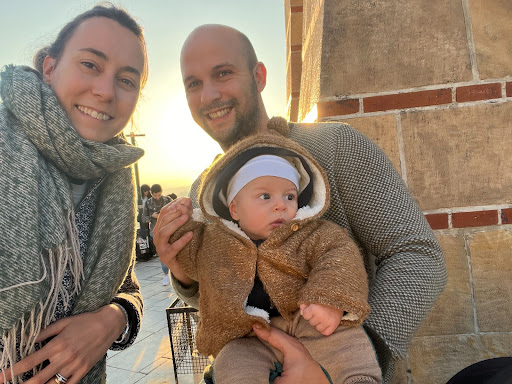 How did you end up applying to Stuart? Tell us your story!
I've spent most of my professional career developing my supply chain and commercial knowledge in the corporate world. And one day, I felt I needed a change to see if the grass was greener somewhere else. I aimed to find a company where, together with my team, I could take decisions and quickly execute on them, driving an impact on the business. I was looking for a place where there was space for a trial-and-error approach - Stuart seemed the perfect fit: a scale-up in the delivery space.
How was your recruitment process? Why was it special for you?
I had initially applied for the Spain General Manager job, a role for which I had interviewed with Matthieu. I didn't get the position (Matthieu decided to hire himself 😉).
But then, out of the blue, I was scrolling on LinkedIn and saw Dimitri Moulin's post advertising an open role for the Head of Partnerships. I immediately contacted Sara Andrade, who coordinated the previous recruitment process, and I also wrote to Dimitri on LinkedIn. A few hours after, I got the confirmation that the interview was scheduled. 
Dimitri put me at ease during the interview, shared a lot of passion for Stuart's projects, and had a very clear vision for the new partnerships role. I get energised when there are a lot of things that need to get done and a clear plan behind them, so I fell in love instantly.
After Dimitri, I talked to Medhi (former Director of Strategy) and learned even more about Stuart. To be very honest, I felt I wouldn't pass the interview as I got stressed answering one of the key "behavioural questions".
But eventually, Sara shared the good news that I was moving to the business case stage. When she emailed me, I was in the middle of a road trip in California without any device except my phone (which eventually got stolen in Los Angeles a few days later 😅). Sara and Dimitri understood the situation and showed flexibility regarding the case study presentation, which I could do after my return to Spain. 
When we were driving in California, all the way from Yosemite to San Diego, I bored my husband with how to address the different business case questions. We negotiated that I could talk about it only during these few hours of driving.
When I prepared the case and presented it, I felt I was somehow already onboarded at Stuart as I had to deal with what would have turned out to be my actual job!
What about the stakeholders participating in the process - did you enjoy meeting them? Let us know what convinced you they'd be amazing to work with. 
Apart from Dimitri's and Sara's energy, these are other aspects that I loved throughout the process:
The fact that two Executive Committee members (Seb and Cornelia) spent time reviewing and listening to my business case.
The fact that I informally reached out to Matthieu and Pier Luigi via LinkedIn to ask for support to prepare for the interviews, and they very kindly responded to my queries (proof below!) and spent some additional time over the phone to discuss these in more depth.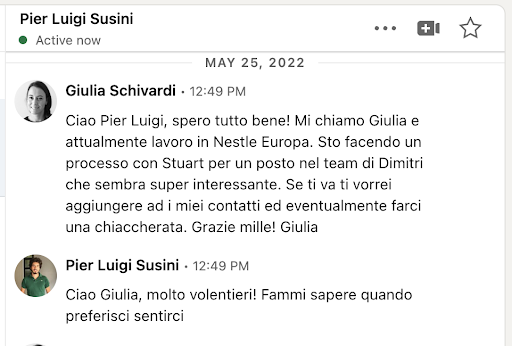 How did you feel when the offer was extended to you? 😉 
After the business case, I told Sara that I was pregnant (I think the exact wording I used was "very pregnant"), so to be honest, I had limited expectations that I would get an offer.
I knew the role was urgent, and in our culture, especially that of the mid-size Italian city I come from, we're used to believing that "nobody will ever hire somebody knowing she is pregnant." Many friends also indirectly shared their belief that this wasn't going to happen and that this was a crazy move. 
When Dimitri dropped me an email to ask if we could talk, I was quite sure it was a no. Thinking reactively, he gave six slots for the same day, which was definitely a hint. When we got on the call, he took a long route to give me the good news. I was so happy, just so happy!
Did you feel supported by Stuart when applying and going through the whole recruitment process? 
I loved Sara: the best recruiter I have dealt with as a candidate, and I participated in many recruitment processes, so I talk from experience. Crystal clear communication, amazing availability to discuss any next steps in detail and to debrief after interviews. Having recruiters like Sara makes a huge difference, and the fact that at Stuart, we care so much about how we treat people during the interview process says a lot about our people-centric culture.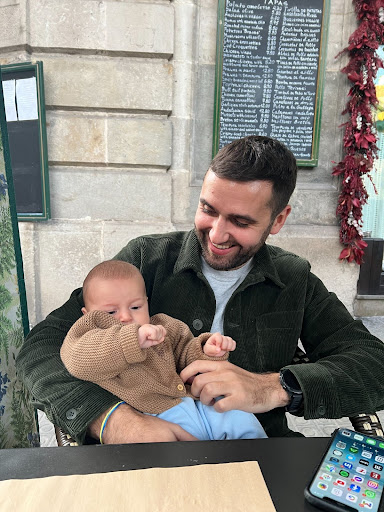 We encourage our employees to find a healthy work-life balance. Even though it must have been challenging, have you managed to find yours?  
I would lie if I said "yes", but it's definitely something I am very keen to achieve.
Since I came back to work, my husband, Andrea, has been on paternity leave (this ends soon, unfortunately), so I have to say I had a very privileged situation thanks to the progressive Spanish laws and a very supportive partner. Andrea has woken up all the nights during the last two months to take care of our baby, Pietro, and he is with him during the day, so I can focus on work. 
I try to have the following schedule: before 8.45 am is Pietro time. "Before" can start between 6 and 7 am, and this is very much out of my control. I get him dressed, I feed him, and we play together. Then I walk to work, and luckily, I have just a 10-minute commute (when people say Barcelona is not a big city, they are indeed right). I start work at 9 am, and I normally leave the office between 6 and 7 pm. I go back home and spend some more time with Pietro before he goes to sleep. On Friday, I aim to finish early and enjoy some more family and friend time.
If you could give advice to any soon-to-be parents applying to Stuart, what would it be? 
I would tell them to trust their intuition, and if they feel they want to apply, they should do it. Unfortunately, especially if you are a woman, most people discourage you from taking such a decision. Our culture and society still implicitly say you cannot be too ambitious and ask for everything (the baby and the new job). In reality, most people discourage you from taking such decisions as they would be scared to take it themselves or because they don't have a truly equal relationship with their partner. 
Then, I suggest looking out for role models. I didn't know many women who'd changed jobs right before (or after) their maternity leave. But I was pretty sure I wasn't the first one among the people I knew. I started to think, and I identified two girls with similar experiences. I reached out and asked them for a quick chat. We exchanged a lot, and I would summarise their advice in a few bullets:
50% you do, 50% your partner does, 
Having talked to them reassured me that this was indeed possible!
Finally, I would advise them to sit down with their partners to discuss expectations and build a clear plan together. It might sound "too formal," but having a baby and two careers requires having an amazing balance with your partner, which, in my view, is only possible when you share the same vision and plan.