Ship from Store: Leveraging your locations for faster delivery
With the growing volumes of parcels injected into city centres over the last decade, the importance of optimising the delivery experience for both businesses and end-customers has become crucial. Introducing our ship from store model, which is the ideal solution to leverage bricks and mortar locations to speed up delivery times, reduce congestion and improve the sustainability of each delivery. By cutting out the traditional distribution centres and endless milk rounds, ship from store has opened the doors to a more sustainable delivery model. 
Ship from store has become essential to the omnichannel strategy, helping retailers differentiate from competitors. With more shoppers than ever preferring online options when shopping, retailers must innovate to meet the demands of the ever-conscious consumer. By turning stores into mini urban warehouses, and making in-store stock available online, retailers can lower their carbon footprint. 41% of respondents in a recent survey, conducted by Retail Gazette and Amazon Shipping, said that ship from store was a futuristic delivery innovation that would be a good fit for their customer proposition – only "increased choice of delivery speeds" (51%) ranked higher. Both are essential components for every retailer's delivery strategy. 
Stuart's ongoing partnership with coffee connoisseurs, Nespresso UK&I
To showcase ship from store's potential, we wanted to share one of Stuart's key partnerships in bringing this model to life: Nespresso's Fast & Green delivery proposition. 
Based on the mutual commitment to collaboration with purpose and to pioneer Logistics for a Sustainable World, the Nespresso and Stuart partnership was born in 2019 with the launch of Fast & Green. Perfectly aligned alongside Nespresso's in-boutique retail availability, the ship from store model supports their omnichannel strategy, using pedal power to deliver Nespresso orders in less than two hours within London, Edinburgh, and Glasgow by Stuart's bicycle courier partners.
Thanks to the ship from store model, the pedal power allows for both companies to reduce their carbon footprint. Not only is the delivery sustainable, as the boutique acts as a micro-fulfilment centre, but so is the return journey: every coffee capsule delivered is recyclable, with the couriers able to collect customers' used pods and return them back to the nearby Nespresso boutique. From delivery through to used capsule collection, Fast & Green offers a quick, seamless journey and makes recycling even easier for consumers.
This service is currently live in four stores across the UK for those consumers who want their coffee in a hurry and are conscious of their carbon footprint.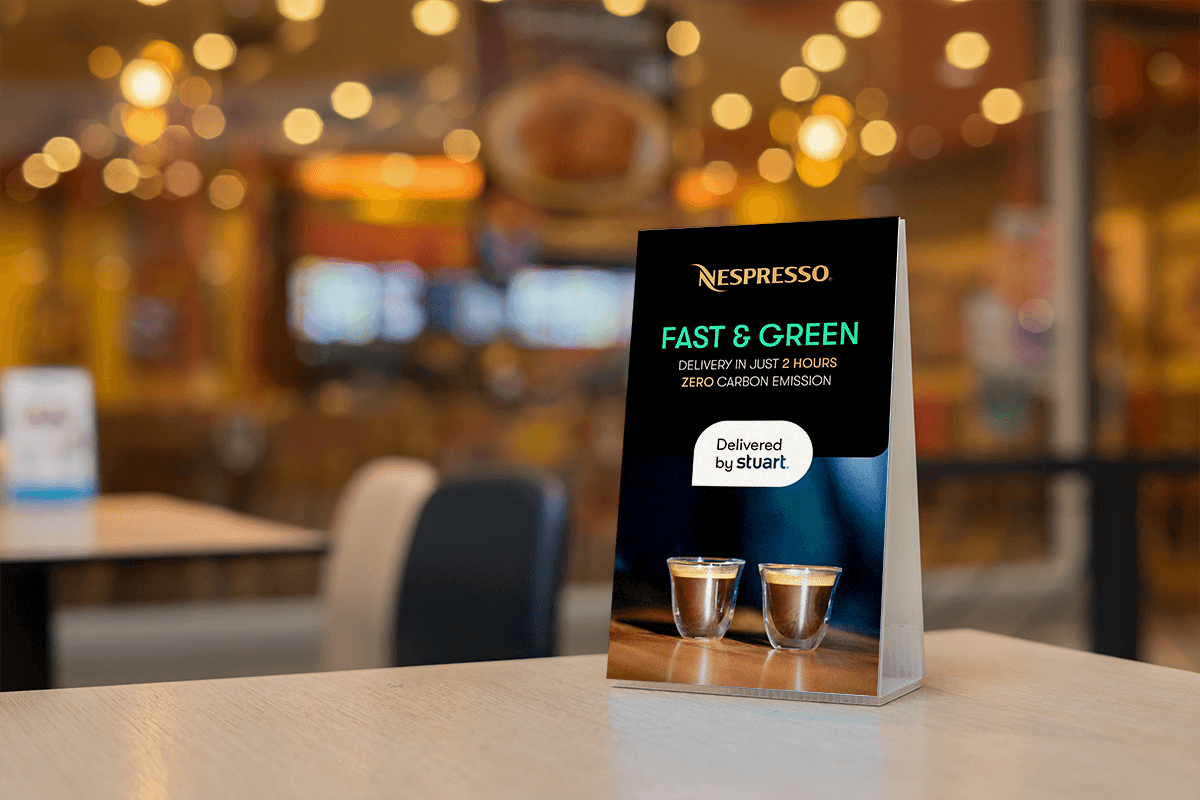 Delivery for a sustainable world, one coffee pod at a time
Nespresso is part of Stuart's partner ecosystem, one that allows a group of likeminded organisations to come together and improve cities. Our goal is to grow this into a network that will accelerate sustainable innovation, thanks to collaboration between businesses like Nespresso and Stuart. 
Starting with an all-green delivery mechanism - with the potential to build city scapes that will be greener and more sustainable. All fuelled by excellent coffee. 
Nespresso's Fast & Green delivery certainly lives up to its name. However, Nespresso's sustainability agenda doesn't end with pedal power, ship from store and recycling. Nespresso – a certified B Corp™ - partner with  many NGOs and organisations, including the likes of Podback, Rainforest Alliance, Fairtrade and B Lab UK - as well as Stuart, building a powerful ecosystem to ensure that each partnership drives the sustainability agenda forwards. Adding Stuart's technology into the mix, with a robust routing algorithm for orders makes it an eco-conscious service. This supports our core mission at Stuart, which is to create Logistics for a Sustainable World. We are proud that our partnership with Nespresso  is built on similar value foundations.
Sustainability and the future of retail
In a 2021 survey, run in collaboration with Censuswide, 30% of respondents – all surveyed UK senior leaders in the retail sector - highlighted that offering more sustainable delivery options at checkout was an investment priority for them. Why? To help them differentiate from their competitors. This business priority is also quickly becoming a priority for end-customers too. Already, 13% of UK consumers are making decisions based on a  retailer's promotion of sustainable solutions. Across Europe, 32% of consumers say they value sustainability more than practical factors such as cost and speed. So how can ship from store help improve a business' overall sustainability?
Traditional delivery services generate large amounts of carbon emissions due to its dependence on fossil-fuel powered vehicles and long, sometimes inefficient, journey times. Ship from store, however, is inherently environmentally friendly as the delivery travels less miles, and when combined with a carbon-neutral delivery vehicle like a bicycle - as seen in the Stuart x Nespresso partnership - or an electric van, the environmental impact is greatly reduced. Sustainability will continue to become more of a focus for consumers, and ship from store is one of the easiest ways for retailers to reduce their carbon footprint while offering a faster delivery.
The future for Stuart & Nespresso
What does the future have in store for this collaboration? After an exciting launch in Edinburgh and Glasgow and expanding operations, the goal is to continue providing consistent performance over all stores offering the service. We are proud to be operating with an on time rate of 98% over the last 8 weeks, meaning the delivery was completed within the 2 hour time window commitment. 
Mary Child, Sustainability Manager, Nespresso UK & Ireland said; "Sustainability has been at the heart of Nespresso for the past 30 years  and we are always looking for new ways to collaborate with partners who share the same values. This is an innovative way of reducing our impact whilst benefitting our customers too."
Sustainability is at the forefront of businesses and end-customers' minds. With this collaboration, sustainability, fast delivery, and reliability are all achieved - meaning no one has to compromise.