If you're a longtime Stuart customer, you may have noticed a new look on our website—and on our app, logo and Stuart's courier gear. In fact, we've unveiled a new brand identity that stretches from our colours all the way to how we use motion. It's a big change that we're excited to share.
As Stuart has grown, we realised that it was time for our identity to become an emblem of our brand purpose. Although we began in 2015 as a start-up, our company is now a high-growth scaleup with a bold mission: logistics for a sustainable world. That vision is why we've transformed our identity to look towards the future. 
To get it done, our amazing Brand Design team took on two challenges at once. First, they wanted to optimise our brand system to make it scalable for Stuart's expanding business. (Part of this challenge would be to strengthen the presence of our activities, offers and transport types within the brand.) Next, they focused on integrating the idea of sustainability into the Stuart universe's look and feel so that the environment would always be part of our world. 
After lots of sketching, searching and perfecting, our Brand Design team was ready to introduce... An all-new brand design system! It's a holistic approach that allows different design elements to be combined and recombined into one meaningful, consistent brand. 
Want to see how it works? We'll take you through the whole redesign, to learn how we rethought the core pillars, system identity and visual context of Stuart's new brand. Let's jump right in!
Back to basics: The foundations
When it came to revamping our brand identity, the team started by looking at three core pillars that make up the foundations for a strong system. In fact, these pillars are some of the first visual elements that introduce you to Stuart. Whether it's a cargo bike making deliveries on the street or a newsletter landing in your inbox, the basics of brand identity are our logo, Stuart colours and typography. 
Fortunately, these core pillars were already in strong shape thanks to Stuart's original B2B brand journey. To bring them into line with our updated vision, it was all about a refresh. Tweaks, refinements and a new perspective helped us evolve while keeping Stuart, Stuart. 
Logo
Of course, brand design doesn't get more iconic than a perfectly crafted logo. At Stuart, we've loved the elegance of our "S" logo for 5+ years: with just three lines, you can see a parcel, a delivery route and our initial all at once. We think it's pretty amazingly efficient—and that's one reason why our Brand Design team saw the opportunity to make little changes for a big impact. They added more weight to create a bolder presence, rounded off the sharp corners for a friendly look and completed the logo with a final dot.
Colours
Another core pillar ready for a refresh was Stuart's colour palette. As with our logo, our main colour, blue, would remain an essential part of the brand's identity. But we found a modern twist with a more vibrant Stuart blue, paired with a darker shade in the primary palette. These new, vivid blues were joined by a new colour: Stuart green. This fresh, acid green both brings sustainability into our brand and provides contrast and originality to Stuart blue. Finally, the team developed a full secondary palette to allow for diversified designs and bright communication.
Typography
With all the font options out there, our Brand Design team knew what they were looking for to achieve a refresh. The typography should be robust and innovative, but also playful and dynamic. That's why GT Walsheim is a great fit as Stuart's new typography. It's geometric while staying warm—a mix of curves and structure that matches the vibrant, friendly spirit found throughout the core pillars of our brand redesign.
Mapping the brand: The system
Next up, the team tackled the brand concept. This step involved defining the idea that would go on to anchor the new brand design system, shaping each element to help express the concept. Following a lot of research, thinking and debate, our Brand Design team decided on maps to guide the brand system.
It's a choice that makes perfect sense for Stuart's identity and for our business as we continue to grow. Since our product interfaces are based on maps, the map is the central visual representation of our technology. The smart dispatch and live-tracking that set Stuart apart are closely linked to maps, which are also a natural environment for representing various elements of delivery. Plus, maps' geometrical qualities gave our team plenty of room to play with ways of building visual meaning. Let's explore a few highlights from the brand system.
Components
Pin: Marks the beginning and end of every delivery. It can be rotated to different angles, used as a plain shape or as a mask in a photograph, map or in tandem with other graphical assets.
Position circle: Shows the position and location of courier partners and customers' parcels. You may recognise it from our refreshed logo—that's the Stuart dot, in Stuart green!
Routes: Trace the connection that Stuart makes between our clients and their end-customers. Within the brand system, you'll see routes as curves, angles and more.
Iconography
From the brand concept, our team designed a new set of flat icons that use paths as the main shapes. But we didn't forget about the possibilities of three dimensions! Collaborating with Product Design, our Brand Designers created a complete 3D fleet to represent the range of the multi-modal transport available across our offering.
Delivering context: The product
The final piece of our brand system puzzle includes a range of media types to complement more abstract elements like pins and paths. From photography to solutions icons, these guidelines aim to help us offer a rich visual context to Stuart's brand universe. In other words, the Brand Design team refreshed how we approach showcasing our tech, products and services at work.
Solutions
One area where our team got to start from scratch was with new logos for each of Stuart's delivery offerings. These playful, abstract icons recombine routes and position circles into a set of totally unique shapes. Although they suggest each of our solutions, the logos don't add up to a literal representation. That means they fit into our brand system while leaving space for the imagination—just right for our brand identity.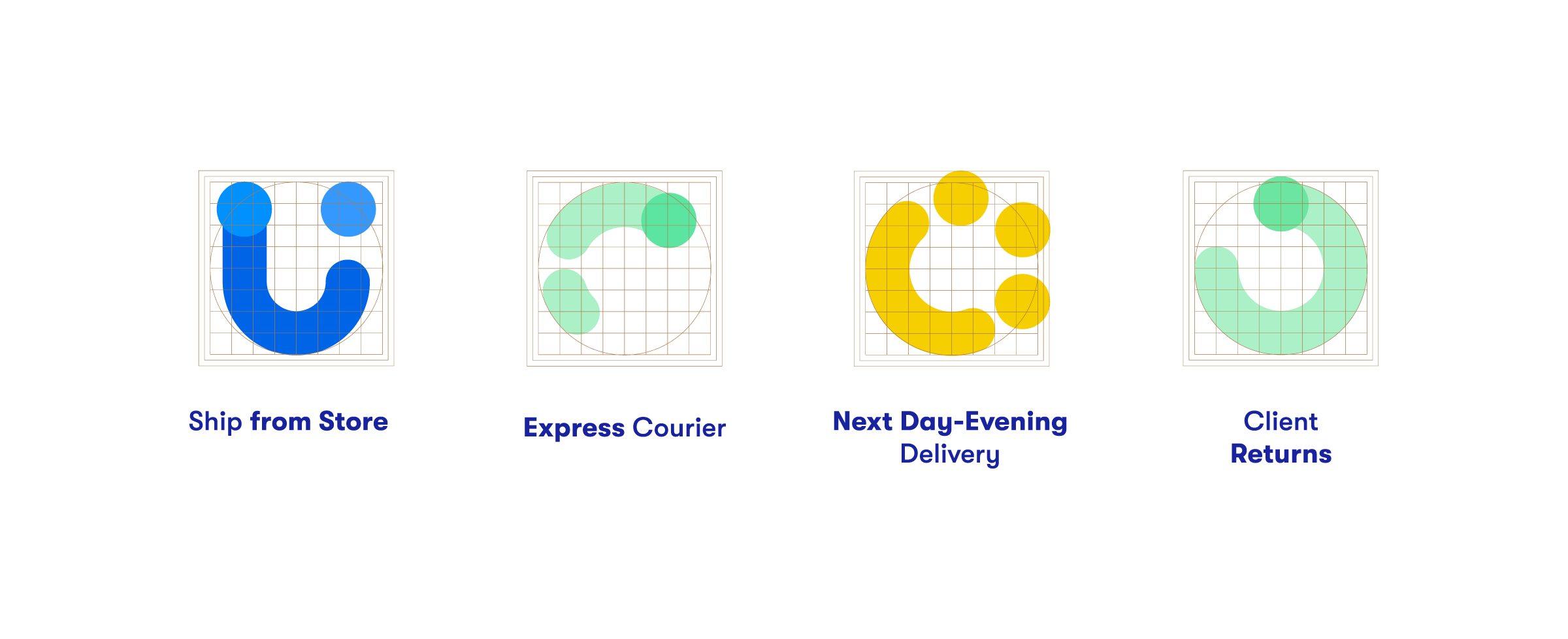 Illustrations
On the other hand, illustration has always been a strong feature of Stuart's brand. Made 100% in-house by our talented Brand Designers, our illustrations are evolving with the new brand system: you'll notice subtle textures and patterns joining the bold, joyful signature style illustrating delivery, tech and more.
Photography
To bring Stuart's offerings into a "real life" context, photography allows us to contextualise last-mile solutions with people, places and products. By revising our brand photography guidelines, the team focused on making sure that these visuals express the benefits of partnering with Stuart.
Final thoughts
We're happy to say that all of these changes added up to one major transformation. Our new brand system delivers fresher, bolder impact across every touchpoint and helps us communicate who we are and where we're going next. Because best of all, this revamp of Stuart's brand identity delivers meaning in a whole new way. You can learn about our product, connect with our tech and see our mission throughout our visual world.
We hope you enjoy exploring the Stuart brand system! 🚀
Interested in joining our team? Check out our open positions.