Pop quiz: when is the office also a place to learn? 
From attending a class to becoming a mentor to a coworker, there are lots of ways to bring learning into the spotlight within company culture. Indeed, while it's important for an organisation to hire talented individuals, it's equally important to invest in their continued learning and development. When individuals grow, the companies where they work can grow too. 
At Stuart, our Talent Development team brings a special focus to providing opportunities and encouragement for every employee to become growth-oriented 'learn-atics' and make a difference by contributing their own expertise and insight. We call the full range of programmes and initiatives Stuart Academy—and there's plenty to do and see. Read on for a quick tour of our learning and development highlights!
What is Stuart Academy?
Although Stuart Academy sounds like a school with ivy-covered walls, it's actually an internal center of learning designed and implemented by Stuart's People team.This ambitious project began with an ambitious vision: for Stuart to be the #1 learning organisation in Europe for cutting-edge talents. Our Head of Talent Development wanted to create an internal academy with different curricula adapted to employees' seniority level: a foundational course for everyone, an advanced pathway for managers and senior managers and a collaborative programme for internal leadership and exchange.
In short, Stuart Academy's mission is to deliver high-quality learning programmes that equip Stuwies to effectively fulfil their role. It aims to develop, upskill and reskill our personnel by building their capabilities and supporting their professional growth.
Roll call: How Stuart Academy works
If Stuart Academy represents an ambitious vision, the challenge is especially exciting for a high-growth company with over 500 employees. 
To keep things simple, our Talent Development team created an academy built on five core pillars geared toward personal and professional growth.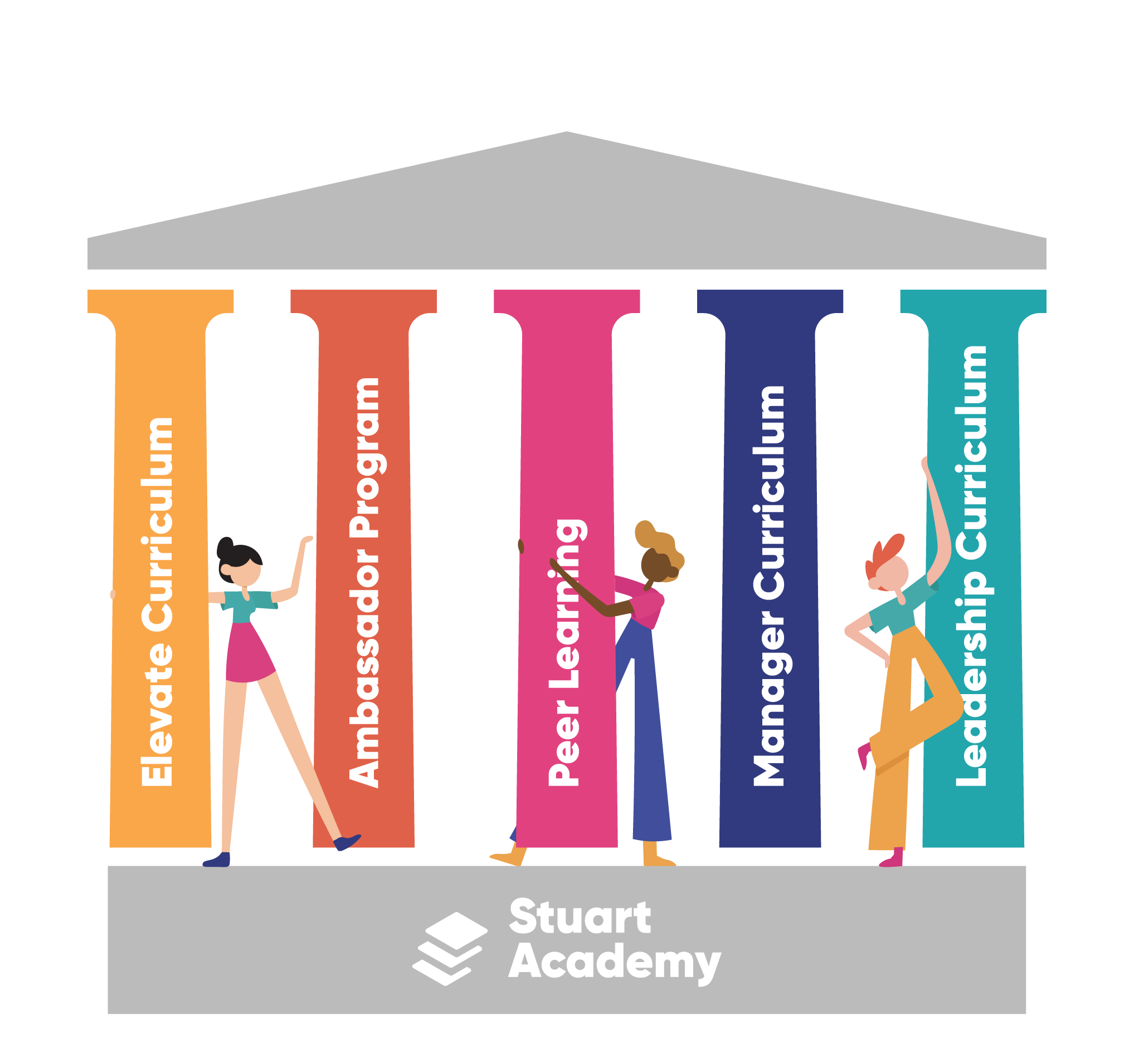 Leveling up
At Stuart, we realise the important role personal effectiveness plays in the growth of a company. Not only do employees make the best use of their own time, but also learn to utilise the resources at their disposal. With this in mind, the Talent Development team focused on training to help employees elevate their personal effectiveness. Objectives for participants include identifying what reduces productivity in a workplace, understanding and developing tools to improve personal and team performance and achieving a better work-life balance to further promote mental health. Through interactive workshops, the training covers topics such as "The Psychology of Flow", "Mental health at work" and "How to improve personal and team productivity". 
Our team is also constantly working on improving Stuwies' well-being through other initiatives aimed at enhancing communication and collaboration within teams, as well as project management skills to boost company performance as a whole. These new training sessions are coming soon! 
We are also proud to be partnering with Udemy, offering Stuwies the opportunity to learn new skills through short, compelling video courses. By enrolling in courses relevant to their interests, employees can dedicate an hour on a weekly basis to reskill and upskill. They are also encouraged to share their learnings during performance reviews with their manager and join the Learning Community to discuss their progress with their peers. This "Upwards with Udemy" programme also rewards Champion Learners who spend the most time learning on the platform with a company-wide shoutout and great prizes.
Getting involved
Equally important for Stuart is to create leaders of the future. With this in mind, the Ambassador programme was launched to recognise and celebrate the individual engagement of each Stuwie. Within this programme, employees do not receive formal training. Instead, they're recognised for how proactive they are in giving back to the community. They are appreciated for taking part in activities divided into 3 categories: Representing Stuart, Relationship with coworkers and Making the world a better place. Any Stuwie who effectively documents the activities they participated in can earn points and apply to receive an Ambassador' certification if they meet the requirements.
I feel Stuart is very supportive of employees' growth and would like to thank you for putting so much effort into Stuart Academy and all the self-development initiatives. Keep pushing! <3
Teaching and learning
In 2021, we all know how important peer learning can prove to be. According to a study conducted by Degreed, most workers will turn first to their peers if they wish to learn something and expand their skill set. Peer-to-peer learning can be a powerful development tool tapping into the expertise that already exists within an organisation.  As a result, the peer learning programme at Stuart aims to do exactly that—to promote "Employees teaching employees" initiatives. 
One part of this is StuTalks. These mini-masterclasses led by employee volunteers are a fun-filled way for employees to share business-related knowledge. StuTalks can touch on a wide range of topics. To give just a few examples, past StuTalks have discussed project launches, methodologies employed by different teams,  interesting concepts that are being worked on, or guidance on developing hard skills that can always be useful. 
Secondly, Stuart Academy promotes peer learning among Stuwies through its mentorship programme. Our Talent Development team believes that it's important for companies to offer structures that allow employees to connect and encourage them to share both their successes and challenges. Not only do both the mentor and mentee learn from each other, but also can go on to improve team performance thanks to the enrichment of their skills. 
The third aspect of peer learning at Stuart is the Job Shadows programme. Job Shadows are an interesting way for our employees to spend time observing a colleague at work, understand their day-to-day tasks and use their learnings for their own progress. How fun would it be to follow someone around and see what they do daily?! With the purpose of building perspective, sharing knowledge and reaching development goals, the Job Shadows programme further gives Stuwies the chance to learn beyond the scope of their role, no matter which team they are currently a part of. 
Last but not least, Stuwies can also work on a project or task beyond their core job responsibilities, either inside their own department or in collaboration with another team. By taking on challenges, these "stretch assignments'' help participants build their personal toolkit, practise new professional skills and strengthen relationships with colleagues across the company. 
The change is enormous! My mentor was incredible, listened to my questions & problems, and provided me with the tools to work through them strategically.
Empowering managers
Another major pillar of Stuart Academy is the Manager Curriculum. Programmes designed as part of this curriculum are dedicated towards people management training and building leader-coach capabilities. The Aspiring Managers program is built with the objective of equipping Stuwies with the skills needed to effectively grow into a manager's role. Aspiring managers can now build their knowledge, strengthen their confidence and grow into the role of a people manager. 
 A second part of the Manager Curriculum is the Coach program, a series of virtual webinars that promotes training for managers on developing better management practices and coaching skills. One study found that 80% of people who receive coaching report increased self-confidence, and over 70% benefit from improved work performance, relationships and more effective communication skills. And to top it off, our coach programme aligns perfectly with our company values. It empowers Stuwies to bring out the best in others. It promotes cooperation and collaboration among teams, while building awareness and helping one another solve problems right. It also helps Stuwies think outside the box and carve new creative paths. 
Focusing on leadership
Finally, we also have the Leadership Curriculum! As we've seen, Stuart Academy includes programmes designed to prepare employees for managerial roles. However, our senior managers are equally important. The Leadership programme aims to develop the strategic leadership skills of senior managers with a professional external coach. Various studies have shown that coaching employees to improve performance accentuates their individual skills and helps them better understand how they can fulfil their role to the best of their ability.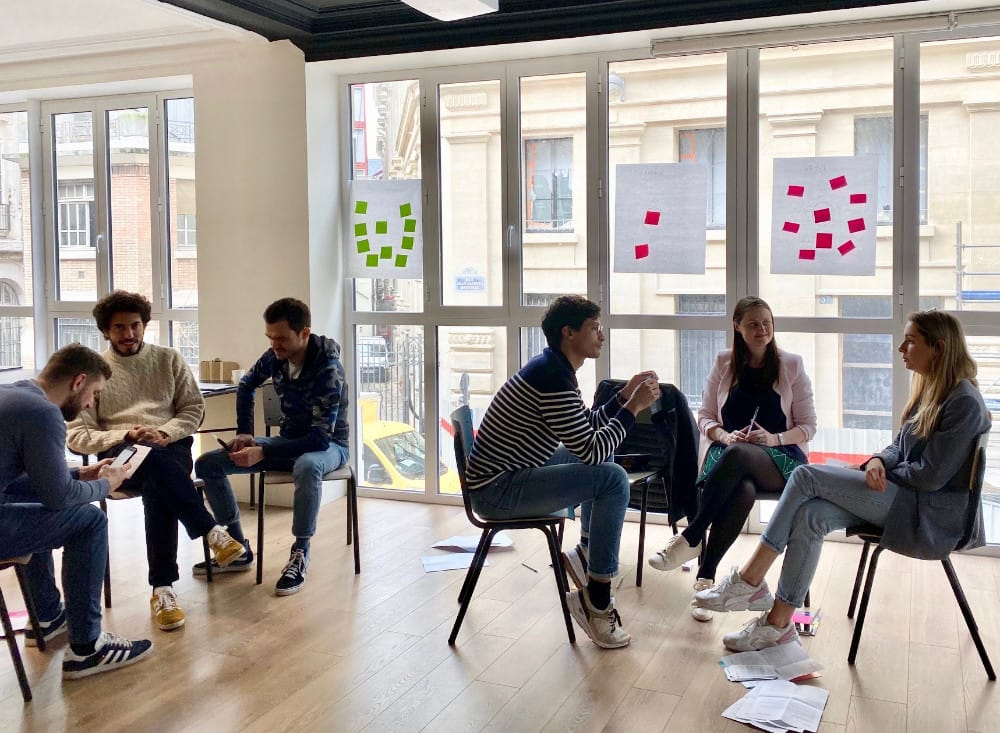 Study hall: Why join Stuart Academy
Now that we've seen the five core pillars that make up Stuart Academy, you may be wondering how our amazing Talent Development team came up with these programmes. Although Stuart Academy is always evolving to meet employees' needs, it is based on a strong understanding of the appropriate learning theories and models that shape the programmes.
One of the most effective models that inspired our Talent Development team was the 70:20:10 model. According to this model, 70% of learning happens by trying things out first hand; 20% is through activities in a social setting, such as peer-to-peer learning; and only 10% of learning happens through formalised activities such as trainings and workshops. That's why Stuart Academy combines both self-directed learning with instructor-led learning to offer Stuwies the opportunity to develop problem-solving skills that are relevant to their work and add value across the board. 
Best of all, Stuart Academy has had a tremendous impact on Stuwies. It has helped them develop their skills, learn beyond the usual limits of their role and provided them the possibility to further explore their interests. 
Stuart Academy in numbers!
2020: 7 Learning programmes launched across 3 countries with 257 participating Stuwies and a 95% recommendation rate of the learning initiatives!
2021: 13 Learning programmes launched across 5+ countries with 388 participating Stuwies and a 96% recommendation rate of the learning initiatives!
At Stuart, we not only aim to help every member of our team improve their performance, but also reach their personal goals. With our team growing at a faster pace than we could imagine, we're even more excited for more and more Stuwies to participate and be a part of our Stuart Academy! So much more to come. Stay tuned! 💙
Want to learn more about joining our team? Check out our Careers page to browse open positions.