Follow the story of how we gathered 280+ team members in one location - the island of Formentera – to redefine Stuart's company values, amongst other sun-related activities.
Values are the DNA of a company, they represent the culture of an organisation. As both the company and teams grew, it became clear that it was time to update our values in line with our evolving culture - and we had the perfect way to do it. 
The need for change 
When we first defined our values 3 years ago, we elaborated them with a small group of people who brainstormed and came up with a list of values that were then suggested to our top management. It was only after they had been approved that we shared them with everyone in the company. 
Although the values reflected the company at the time, and contained elements that the teams aspired to embody, the buy in was only partial.  We wanted these values to be very much alive in everyone's day to day, because we believe that they should effortlessly be part of every process - team routines, performance management procedures, hiring process – we decided to join forces and redefine them all together.
How do you make all 280+ employees, living all around the world, agree on a common list of values? We needed everyone to be on board, but how? 
To solve this we took everyone to Formentera for our annual Global Offsite - and that's when the magic happened. 
How did we get there?
It all started with Marta, Stuart's amazing Head of Human Resources and her team of superstars. They instigated the whole process behind the redefinition of our values. 
They first sent out a survey to all the employees before the Offsite in order to map out what our priorities and preferences in terms of company values were. The results showed us that we are a task-oriented company, with a high power distribution, where results are more important than rules, and where expertise, flexibility and cooperation are essential.
The day following our arrival in Formentera, we participated in a workshop where we brainstormed together about which core values were important to each of us. That's when we realised our answers were very similar – it was reassuring to know we were all heading in the same direction!
We split everyone into small groups, made up of people from different departments, countries, backgrounds – the goal was to encourage everyone to meet new co-workers and engage with people they wouldn't usually work with. This enabled cross-team communication which we still benefit from today. At Stuart, we love a good challenge so we made the different teams compete to create the best catchphrases that would potentially be used as our new values. It was a necessity to engage all the employees in the redefinition of our values to make it a success.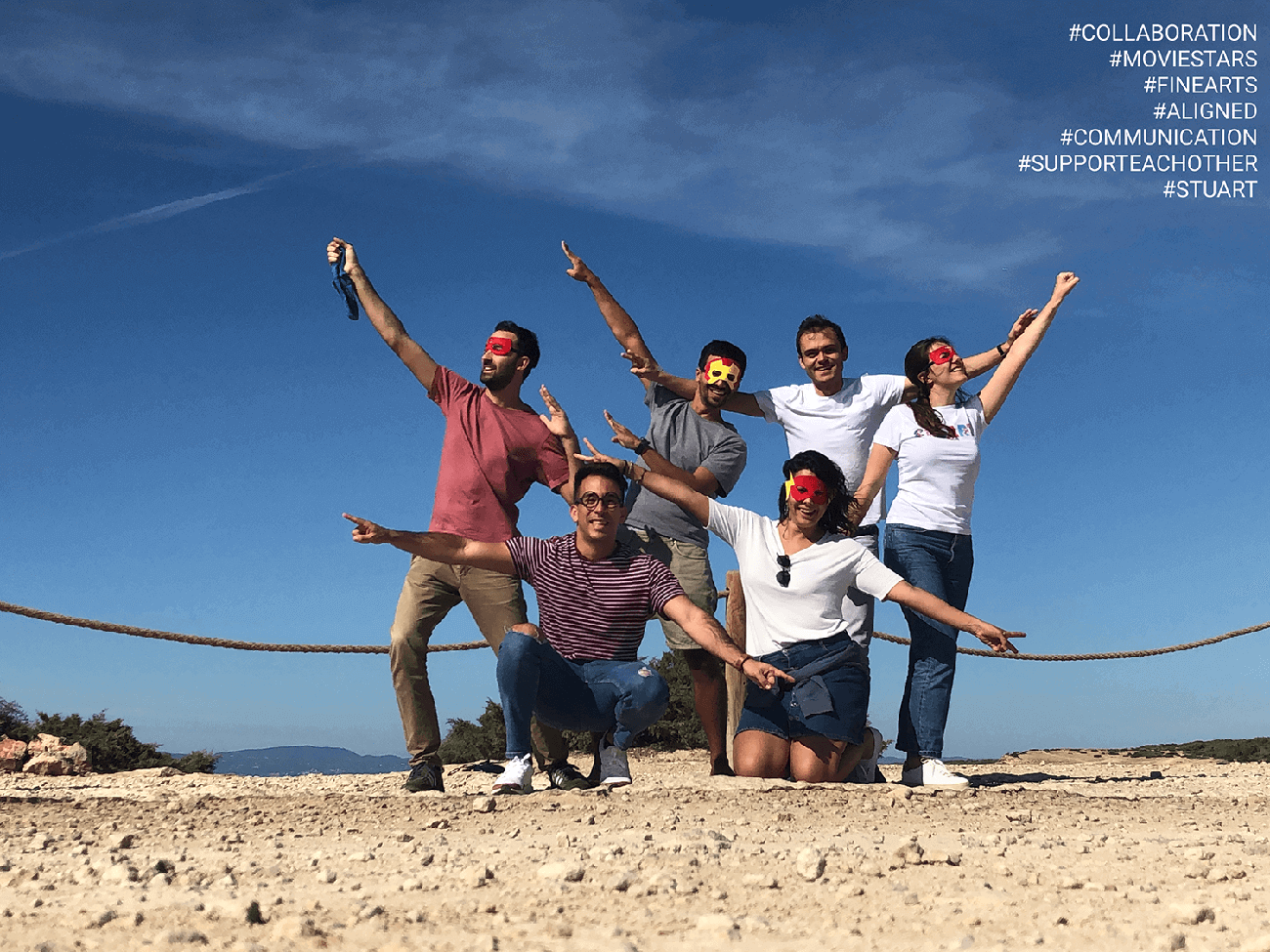 Because we encourage creativity, we asked our teams to illustrate what Stuart meant to them in a short film. They had a few hours to put together a scenario and let me tell you that we may have a few Stanley Kubrick's amongst us! 
Want to see the winning short movie? Check it out right here:
The last workshop of the day consisted in finding ways of implementing our values in the company. We thought about new rituals & processes to make these new values our own and part of our daily  life.
After the Offsite, we gathered all the data from the workshops and organised a full-day session with our C-Levels. We still had to select our 6 company values and a catchphrase for each one of them. We focused on the most popular values, all of which were directly that were relevant to Stuart's mission and strategy. 

Lo and behold! After all the hard work, we had a set of values that we were all happy with. So now the moment you've all been waiting for… We present to you Stuart's brand new set of values!
Start with humility
We believe that each team member is as important as the next and that we all come to work with the desire to improve, together. We each bring our own unique perspective and useful knowledge necessary to achieve success together.  
Build by empowerment
We strive to help people become the best version of themselves. We set big targets and trust employees with autonomy to embrace new challenges. We promote an open door policy for support and discussion across all levels of managers.
Share through cooperation
We believe value creation arises from interconnected expertise. We help one another to solve increasingly complex problems and deliver on our mission.
Turn facts into insights
Surrounded by data, our goal is to turn facts into insights and leverage these to make business-led decisions. Analytics are one of our core capabilities and we count on insight-driven decisions to inform our recommendations and actions.
Solve the problem, right
Using the insights we have gained, we take a data-driven approach to problem solving. We focus on iterating to deliver consistent improvements, while keeping the big picture in mind.
Think outside the parcel
We look at the world in new ways and push ourselves to break new frontiers. We think creatively to overcome limitations and to both imagine and create our own future.
"Being able to build out our own values was super empowering and we really felt that our opinion counted, that we were a part of the company and of the foundations of what's important to Stuart and to us."

– Maria Christina, UK Marketing Manager
Sharing with the team
After all the survey and workshops, during our monthly all-hands meeting, Damien Bon, Stuart's CEO, presented the brand new values we had all worked on. We were so proud to be able to see our hard work actually come to life before us, representing the values of our company. 
We celebrated this moment with deliciously good looking cookies that were sent to every Stuart office. Each cookie represented one of the brilliant company values illustrations imagined by our talented Senior Brand Designer, Kathya. She wanted to create something inclusive and colourful that people could easily relate to, while keeping her signature style. 
She shared her creative process with us: she started out with a moodboard for each value where she gathered sets of 20 images that represented the design and energy she wanted to portray. She sketched the values one by one and looked for the perfect color palette to highlight Stuart's identity.
"I am a fan of our new values! They are bold, catchy, colourful and represent what we truly stand for."

- Alexandra, Talent Development Manager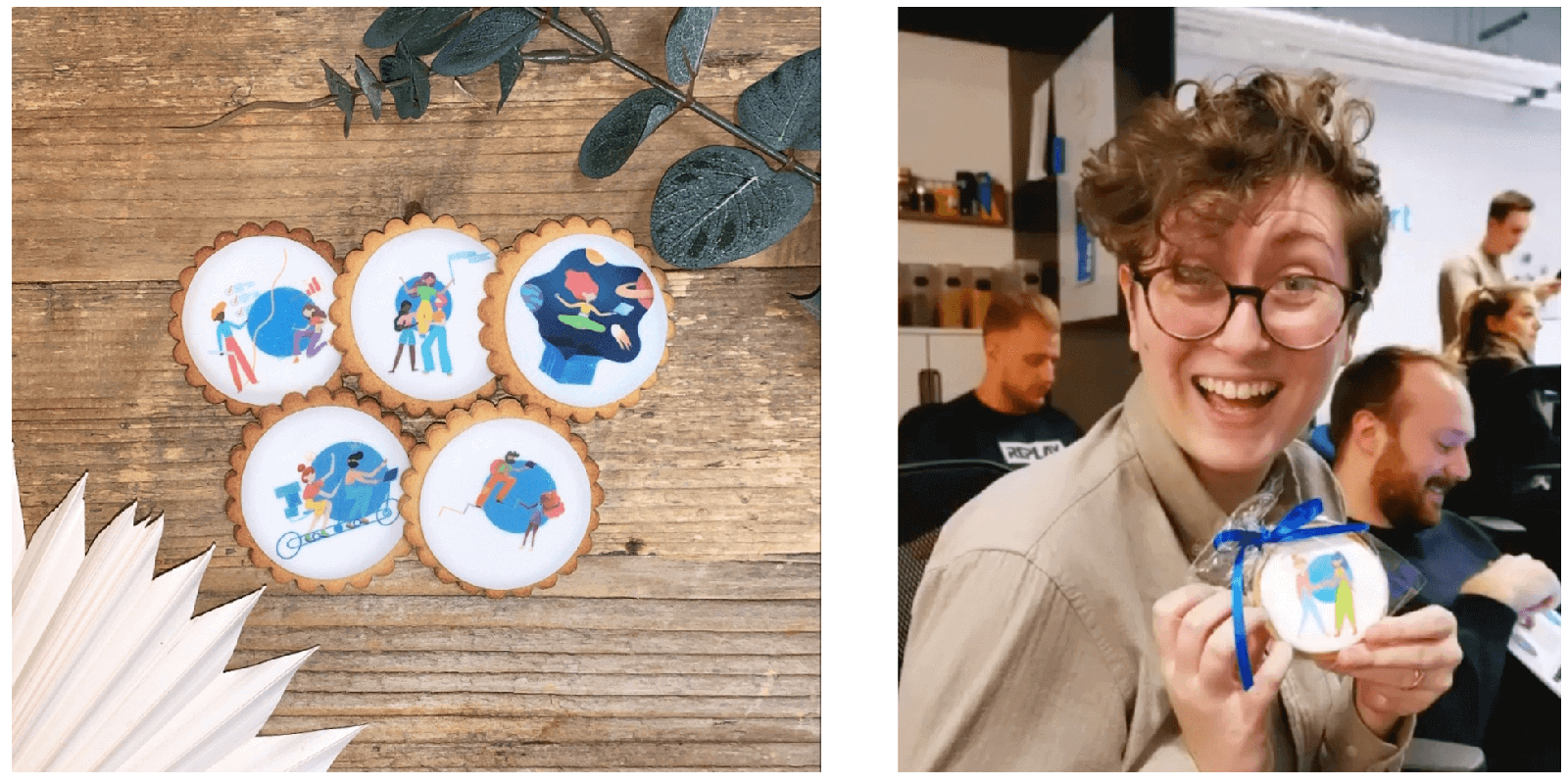 Incorporating each value into our daily life
Now that our values are defined and designed, we can finally implement them. To do so, we've established a roadmap that's helping us ensure those values actually make a discernible impact.
"Values contribute to strengthening the foundation of Stuart's culture and act as guiding principles when it comes to our work, our hiring practices, and ourselves. We talk about them every day and praise each other based on our ability to embody them."

- Marta, Head of Human Resources
We came up with lots of creative ways to incorporate Stuart's new values into the company. Each part of the employee lifecycle will be created around these: the hiring, the onboarding and the training. For example, we'll organise a training on how to embody our values and create a monthly onboarding session with the help of Stuart's CEO, Damien Bon who will be the one showcasing them. We want to encourage employees to be their best self, to learn and grow with us as we go. We want all our employees to engage with these beliefs and allow them to contribute to our personal growth. 
Since the reveal of the new values, we have been showcasing different examples of behaviours related to each value. This is a great way to engage with everyone on their own perspective of what the value represents. It also helps us ensure that the chosen values are aligned with our employees' mindset. 
We have put together a "praise section" using Lattice to make sure employees are celebrated for their involvement and achievements. We value shared knowledge and experience, we motivate teammates to create guidelines of behaviours that they deem valuable and exemplary in Confluence. This tool helps us stay connected and communicate with one another. 
The recruitment process is a key milestone in making sure future candidates are a good culture fit. This is why we are launching a Hiring Guidebook and redesigning our Welcome package, so that new recruits are engaged and are aware of Stuart's DNA from the get go.
Amongst other initiatives to better implement the new values, we will be enabling a "Live-My-Life" experience. We wish to foster cooperation and allow every employee to spend time with someone from another department in order to help better understand other aspects of the company. That way, you will finally be able to understand what being in the Operations or Marketing team is like! 
Still buzzing from that Global Offsite energy…
Having good values that you can relate to is a very powerful tool. They give you a sense of purpose, both for our office based colleagues and our remote teams. They play a huge role in the everyday decision making process and are of great help when you recruit new talents to join your project along the way.
We are proud to say that our values truly represent Stuart's team and mindset: we built them together and it made us stronger than ever. The Offsite was a great way to make everyone focus on our joint mission - and not only that! It was filled with great energy, lots of sun and was set in a beautiful location - which only improved our motivation and helped build great memories and bonds. As a result, our cross-team and cross-country communication has evolved and fostered collaborations for greater projects and a unified, wonderful team!