At Stuart, there are plenty of interesting career path stories that show how there's no one linear way to grow your career. In fact, the opportunities are limitless. To illustrate this, we want to share the first of a brand-new Stuart blog series, Exceptional Hires: the inspiring and fun stories about some of our most remarkable recruitment journeys.
Read on to learn about Silvia Sanchez's story, who never gave up on her chance to work at Stuart until she landed her dream job as a Learning and Talent Development Specialist.
How did you end up applying to Stuart? Tell us your story!
A little over a year ago, I felt I needed a professional change to discover new ways of doing things and take a leap in my career. In March 2021, I opened Linkedin, and the first offer I saw was from Stuart. When reading the job description, I felt "It's a match!". I was attracted by the company, the way of communicating, and the projects that were being talked about… and I decided to apply. It was the first CV I sent after 5 years working in the same company. The first time I applied, I wasn't selected, unfortunately. Maybe I wasn't prepared for the role, but I certainly wasn't ready to give up, either. I updated my CV and Linkedin page and did an intensive English course for a month (6 hours a week, 1-1… I was on fire!). I contacted Pati on Linkedin to see if the position was still open, and I applied again. However, again, my application wasn't successful. But I kept preparing and polishing my skills! I guess the biggest driver for my perseverance was that I wanted that change, and Stuart's spirit really spoke to me.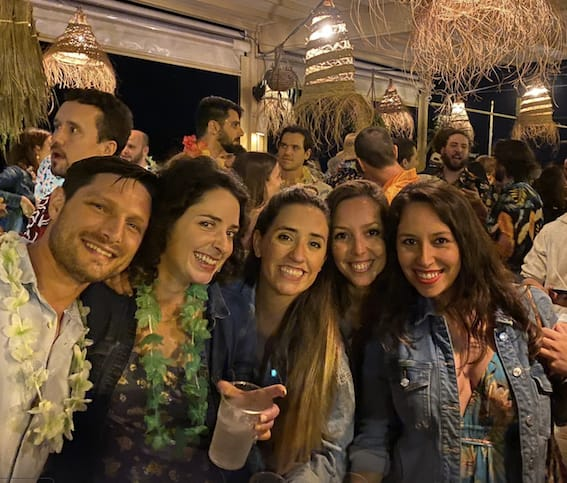 How was your recruitment process? Why was it special for you? 
I sent an email introducing myself and explaining more details about me that I normally wouldn't add to my CV—and this time, I got a reply with an invitation for a first chat—I was so happy! My hard work had paid off, and my recruitment process at Stuart had just begun! 
The first interview was with Pati - it was a calm, approachable, super friendly interview in which I felt a connection with her instantly! 10/10. The way she spoke about the company, the culture, and the values, I felt I was at the right place, and it was the perfect fit for me. 
I landed a second interview, this time with Gemma, our Learning & Talent Development Manager - and it was another match. Gemma gave off such an incredibly joyous energy that the thought of working with her every day made me want to work at Stuart that much more! 
But the position they were looking for was more senior, and I didn't have that experience yet, so I received an email from Pati telling me that I didn't fit for that specific "manager" position. I was interested in a "specialist" position that they didn't have open yet. At that moment, I felt sad and happy at the same time. It wasn't a definite no, but it wasn't a sure thing, either. At that time, I was in another advanced recruitment process. I told Pati about my interest in this "specialist" position and asked if they had an idea of when it would open. To my surprise, at 7 pm on that same evening, I received an email from her saying, "Impossible is nothing for us, and we always try to go the extra mile for our amazing candidates! We would love to see you in action and invite you for a Case Study presentation for the Learning & Talent Development Specialist position." 
I couldn't have felt happier in that moment! 
I took the shot and went for it: I inspected the code on Stuart's website and copied the colours so that the look and feel of my presentation would be 100% on brand. I read many of Stuart's blog posts and anecdotes, checked out their social media, and the list goes on… soaking up the culture as much as possible. On the day of my case study presentation, I was really nervous but very happy about the opportunity I was being offered.
What about stakeholders participating in the process—did you enjoy meeting them? Let us know what convinced you that they'd be amazing to work with. 
In the case study, I met Nishma, who would be my teammate (and now, good friend), and also Fernanda, a People Business Partner, and Angel. The presentation went great, I felt very comfortable with all of them, and I really felt that they were already my colleagues. I was delighted to be able to meet people from the team and get a closer look at the wonderful team dynamic.
After the presentation, I sent an email to Pati where I told her, "I don't know what will happen with the process in the end, but I assure you that it is the best recruitment process I have ever participated in." Pati had even sent me a curated Spotify playlist to specifically prepare for this assignment!! 💙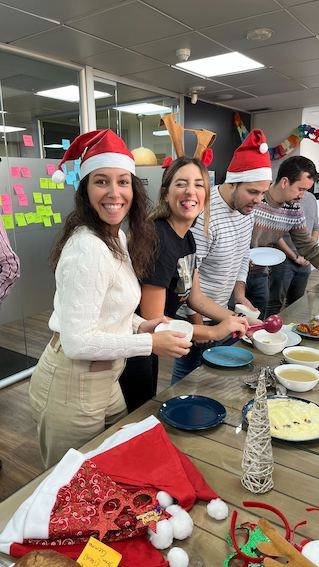 How did you feel when the offer was extended to you?
Finally, when I had the meeting with Pati to get feedback on the process, and she told me that they wanted me to join Stuart, I was filled with joy! 
I couldn't believe it, I was so looking forward to working at Stuart, and it was finally happening. I proved to myself that if I put my heart into it, I could make it.
Throughout the whole process, I felt very special and valued, not like just another candidate or a number. I felt that from the very first moment, people were looked after, always providing feedback, informing me of the process, and in my case, giving me an opportunity that wasn't even contemplated. Pati supported me unconditionally, and it was incredible to be able to count on her. What makes me happiest is to see that after being at Stuart for over a year, I was not wrong. The feeling I felt from the first moment is still there. I'm really fortunate to work at a company where your values are reflected, your manager supports and empowers you, and the rest of the team and people are great.