At Stuart, there are plenty of interesting career path stories that show how there's no one linear way to grow your career. In fact, the opportunities are limitless. To illustrate this, we want to share a new story in our Stuart blog series, Exceptional Hires: the inspiring and fun stories about some of our most remarkable recruitment journeys.
Read on to learn about Salome Plaza, our Learning & Talent Development Generalist, based currently in Annecy, France (this beautiful town looks literally like this emoji 🏞). Salome started her journey at Stuart in the Customer Support department working from the Barcelona office. Wondering how Salome could teleport from one country to another and what her internal mobility journey looked like? Scroll down to find out!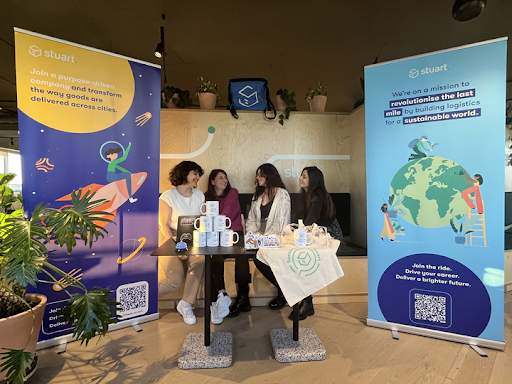 You + Stuart = A Match! But we're curious to know how you ended up working with us.
My background is rather atypical. When I turned 18 and had just received my high school diploma ("Baccalauréat" for French speakers), I relocated to Spain. My journey with Stuart began after working in a call centre for three years and having felt the need for a new challenge. It was during this time that a friend, who had previously worked at Stuart, informed me about the company and its inspiring values. I was super excited when I was given the opportunity to join its Customer Support team. Within six months, I was promoted to the role of an Operations Executive, responsible for overseeing several projects for approximately a year and a half.
Your recruitment journey didn't stop in the Customer Support department, right? 
After spending five years in the customer support field, my intention was to shift my career and pursue something I am truly passionate about: Human Resources. Making a positive impact on our work lives, considering the significant amount of time we spend at our jobs, has always resonated deeply with me. It feels like a meaningful mission where I can genuinely add value.
This strong passion for HR led me to participate in a Mentorship Program offered by Stuart, which provides employees with the opportunity to share knowledge regardless of their role, country, or field. As a result, I joined the program and had the privilege of having Ana Pajuelo (Senior HRBP & Interim Head of Talent Acquisition) as my mentor. This experience solidified my interest in people-oriented roles and intensified my desire to transition my career. With that said, I would like to give a massive shoutout to Ana for playing such a pivotal role in my journey!
How did you become aware of the internal mobility opportunities available to you? 
Here at Stuart, you're always encouraged to explore internal opportunities available through our extensive internal resources here at Stuart.
In my opinion, it's all about timing and intuition. When I checked the job listings, there happened to be only one entry-level position open in the People team. Without hesitation, I seized the opportunity.
After going through the interview process, I officially joined the People team in December 2021 as a Talent Coordinator. I want to express my sincere gratitude to Fernanda Balbuena (at that time Business Talent Acquisition Lead), my former manager. She recognized my potential, placed her trust in me, and became a great source of inspiration throughout this exciting new chapter. 
Fernanda later also made an internal move and transitioned to the HRBP role—as you can see, internal opportunities at Stuart are truly limitless!
What steps did you take to prepare yourself for the internal mobility program challenges? Did you need to acquire new skills or knowledge to transition into the new role successfully?
On reflection, it took a considerable amount of effort on my part. I conducted extensive research and enrolled in numerous courses on Udemy*. 
However, since I was applying for an entry-level position and possessed valuable cross-functional and transferable skills, I just needed a chance to gain hands-on experience in the HR field. Besides, being someone who thrives on personal growth, I was genuinely excited to embrace fresh challenges, even if it meant starting from the basics and building upwards.
*Unlimited access to Udemy is offered as a benefit for all our Stuwies)
How did your colleagues and supervisors react to your decision to pursue internal mobility? 
I was fortunate to have a highly supportive manager William Vallenet (Operations Lead at that time) who not only understood but fully supported my decision, even going the extra mile and writing me a recommendation letter. As for my colleagues, they were genuinely thrilled for me to embark on this new journey and had always encouraged me to pursue my dream job. Their unwavering support has been truly uplifting and inspiring.
In what ways has your internal promotion positively impacted your career growth and development?
During my time as TA Coordinator, I had the fantastic opportunity to implement an interview planning tool that had a significant impact on our team's efficiency, saving us an average of 25 hours per month. In addition, I had the pleasure of collaborating with three incredible Talent Acquisition colleagues: Ludovica Morrone, Julie Conrad, and Aleksandra Krzykawska, to organize and participate in student career fairs in Paris.
My work has been filled with a wide variety of engaging Talent Acquisition missions. But it doesn't end there. I'm thrilled to share that I am currently partaking in the Stretch Assignment Program at Stuart. This unique opportunity allows me to temporarily (so far, 6 months and still counting!) immerse myself in the Learning & Talent Development (LT&D) topics which are enabling me to acquire new knowledge and broaden my horizons. The L&TD department holds a special place in my heart, as it has indirectly contributed to my professional growth. I want to express my sincere gratitude to Gemma Incoronato (Head of L&TD), my exceptional manager. She is a true leader who leads by example.
In summary, I can confidently say that Stuart, along with its remarkable PEOPLE focus, has played a vital role in my professional development. I am immensely grateful for the diverse range of subjects I have been exposed to and the growth opportunities the company has provided me with.
What advice would you give to other employees who may be considering exploring internal mobility programs within the company?
I would simply encourage them to go for it. Personally, I was in a "hungry" mindset, where I had a strong determination to succeed. Building my career from an early age, coming from a modest background, required me to fight for my place. I am proud to say that I am self-made. I firmly believe through hard work, resilience, and courage, you can achieve anything.
Follow your passion and pursue what truly drives you. We are fortunate to be part of a company that values its talents and encourages internal growth. As you may have read from my story, Stuart provides plenty of learning programs to support your professional growth. Make the most of these opportunities, and you won't regret it!