From our Product people to our Solutions Engineers, each team at Stuart has a vital role to play in helping our clients provide an amazing delivery experience to their consumers. Today we're thrilled to announce a new series of blog articles dedicated to highlighting the hard work of our Customer Support team (CS). Read on to find out how our CS specialists step up to make sure every package delivered by Stuart reaches a happy customer.
In the first part of this series, get a sneak peek at how our Customer Support team works, learn how we quickly scaled to deliver high customer satisfaction and how our partnership with Pontica Solutions allowed us to rise to the challenges of the last two years. 
The organisation of our Customer Support team
In just seven years, Stuart has brought fast and efficient delivery solutions to businesses across five European countries and now operates millions of deliveries a month. Making sure every order is delivered precisely and on time is a challenge that requires an organised Customer Support department, ready to answer client inquiries and solve any issue that might come their way. 
On the frontline of our Customer Support team are our agents facing clients and responding to their inquiries. They hold an essential role, acting as a liaison point with Stuart teams responsible for the issues clients might encounter. By bringing attention to specific issues, they help Stuart's tech and business teams to deliver appropriate solutions in a timely manner. 
Moreover, some agents are part of a task force called Live Operations in charge of monitoring deliveries and managing the real-time logistics. Their efforts make certain that our clients have a smooth experience of the Stuart platform and that they can ship their products easily. By working proactively, they are one step ahead of delivery flow issues and ensure that our clients get connected to a courier with the right vehicle for their shipment in a matter of seconds.
Within Customer Support, there are also teams that don't directly interact with customers and don't manage deliveries. These are nonetheless key teams with specific focus areas. For example, the CS Local Operations teams strive to improve processes and operations within their markets. They work hand-in-hand with the local market's Operations team to improve the partnership with our clients and to increase their satisfaction using our service, but also to help with new client onboarding and create market-specific processes for CS agents. 
Also essential to the organisation of Stuart's Customer Support team are our five Programs: Client Experience, Partner Experience, Agent Experience, Tools and Expansion. Their mission is to improve Stuart services by sharing user feedback with the teams directly responsible for constantly improving our product. They also guarantee that agents receive frequent guidelines and feel supported in their efforts to provide a best-in-class Customer Support experience.
The expertise of the Customer Support department is constantly enriched by the work of our Data Analysis and Training teams. Together, they provide us with insights to track our performance and create content to share knowledge across the department.
Finally, in case of emergencies like system downtime, we can always count on our incredible Service Monitoring team to step up and help get our platform up and running for our courier partners and clients in no time.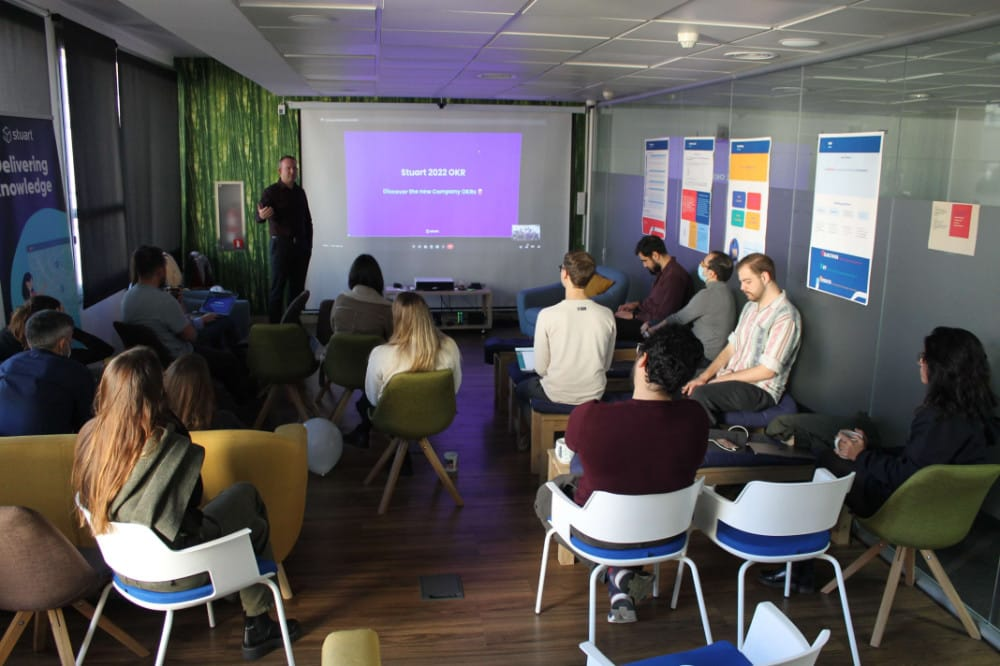 Scaling our CS team
A good series always starts with a bit of background so let's go back to the very beginning! In January 2017, in Barcelona, our Customer Support team was a team of only five people, including the current VP of Global Business Support, Andrew Baylis. Rapidly, CS started to absorb tasks from other departments and to support this growth, we transformed into a department of 40 people by April 2018. That same year, we started working with our first Business Process Outsourcing (BPO) company, partnering with a specialist provider in Bulgaria to handle various customer support-related operations to support Stuart's sustained growth.
This methodology allowed the CS team in Barcelona to develop their skills and advance their careers. Agents progressively became project specialists, program managers, quality assurance experts, vendor managers, operations and service monitoring executives—positions which are fundamental to maintaining an excellent quality of service.
Rising to new challenges
In 2020, the Customer Support team faced the most complex challenges since its founding. As people were forced to stay at home because of the Covid-19 pandemic, they took advantage of buying products online during the year, which resulted in exceptional delivery needs for businesses and skyrocketing demand for Stuart services and support. 
To meet these challenges, we started migrating from our first BPO company to our current one: Pontica Solutions. In total, we had to onboard over a hundred agents remotely to account for the growing need for support during the pandemic! Despite all the adversities and uncertainty of this period, 2020 was a year filled with numerous milestones and achievements. By 2021, we completed the migration and managed to transfer over 160 tasks to our partner Pontica Solutions, while our own Barcelona-based team kept growing. This continued development has been rewarded with a Silver Stevie Award for Customer Service Department of the Year 2021, recognizing our department's ability to provide innovative solutions that please customers.
Focused on innovation
The year 2021 also represented a milestone in innovation as we introduced automation to the CS department through chatbots. 
In February 2021 we launched chatbots for courier partners to provide quicker resolution to repetitive queries. This self-served support allowed us to reduce our agents' workload by about 20%, but also response times by 25% and handling times by 15%. Ultimately, this new process ensures that Stuart remains true to its promise of being the platform that delivers the best courier experience.
In the second quarter of 2021, we introduced a client chatbot, which allows us to classify the type of queries we receive and provide better routing. Practically, this means our CS agents can report issues to the appropriate Stuart teams more rapidly and reduce resolution times. In this same quarter, we also launched an improved assistant bot to further optimise Stuart agents' day-to-day work. 
Our CS team's continued growth
As Stuart expands to new markets and revolutionises the way goods are transported in Europe, our CS team keeps growing as well. During the second half of the year 2021, we successfully opened a second Support site in Kraków to account for the growth of our operations in Poland. Finally, towards the end of the year, we expanded our Support toolset by partnering with international software brands that help us maintain high customer satisfaction across all European markets. These success stories with Intercom, Text Blaze and Miuros were told by several CS team members in compelling case studies.
From a five-person team in 2017 to a highly structured department working across five European cities (Barcelona, Varna, Sofia, Kraków, and Lisbon), Stuart's CS team has experienced impressive growth in just five years, and we're proud of what has been accomplished along the road. As more and more businesses are eager to offer smart and convenient delivery options to their customers, we strive to meet the challenge and provide a top flight customer experience. Thanks to our company's culture of innovation and technology, we are looking forward to even more achievements in the year to come. 
Stay tuned for the next articles of this series dedicated to our CS Team!